Ghost

Chesney x Wyatt 2017 Puppy
I just wanted to reach out and THANK YOU SO VERY MUCH for the wonderful gift of "Ghost" — my husband, Randy, picked her up last November (
at 8
weeks) and I fell in love immediately! She is the absolute best pup we have ever "raised". Don't get me wrong we loved all of our goldies but she is, by far, the best, sweetest, gentlest puppy. I will be taking her to therapy dog training after she is a year old. Our trainer says she is a natural. I tell everyone about you. Please know that I can not thank you enough.
Lillie
Chesney x Wyatt Puppy
Hello Brittney,
Lillie (AKC- White Lillie on the Lake) is WONDERFUL!!! Everyone that has met her has said how beautiful and precious she is!
Our vet was sooo impressed with your attention to detail, expectations, and your care of your puppies. She also was very impressed on your de-worming process!! You should be receiving a copy of the receipt from the vet visit today.
Lillie is eating/drinking great. Stools are formed and regular......she has not had one incident in her crate. We could not have asked for a better dog!! I promise we will provide her with a great home and lots of love......she has already adjusted well!
I hope all goes well with your pregnancy and that you get some normalcy back once all the puppies are in their new homes.
I will send pictures of Lillie as she develops!
Millie
Chesney x Wyatt Puppy
Brittany,
Everything is going superbly. Name changed to Millie. She is an absolute darling, disrupting everything, peeing and defecating like a banshee, loves the snow for playing and peeing (only allowed outside for a couple of minutes at a time because of her feet). She sleeps on our bed at night, preferably near our faces. She barks and whines to get attention and sleeps on our feet when we are working. She loves retrieving tennis balls already.
Millie wakes up at 5:00am every morning and is super-active for at least an hour, then sleeps. We don't necessarily appreciate this too much as we can't get back to sleep. Maggie, our 10 year old female ignores her completely, protecting herself from unwanted nipple searches. Sacha, our 9 year old male follows her around all day ensuring she doesn't touch his (all) toys and balls - that is his obsession and he is not giving up easily. Millie has her safe space in our bathroom (sliding door nearly closed) and scoots in there for water and frequent food search. She has the run of the house all the time, chews shoes and slippers and blankets.
Millie is going to the vet today for her check-up. She has a lump on her shoulder but we think it is a result of her first immunization. The vet will check. All-in-all……..perfect! Thanks for your work Richard
Thanks, Brittany. The vet advised that she was in great health. He even took a photo of himself with Millie and said he will post it on their Facebook page. Country Veterinary Clinic in Rubicon. Cheers Richard
Winston
(Roxy and Atom February 2013 litter)
July 2013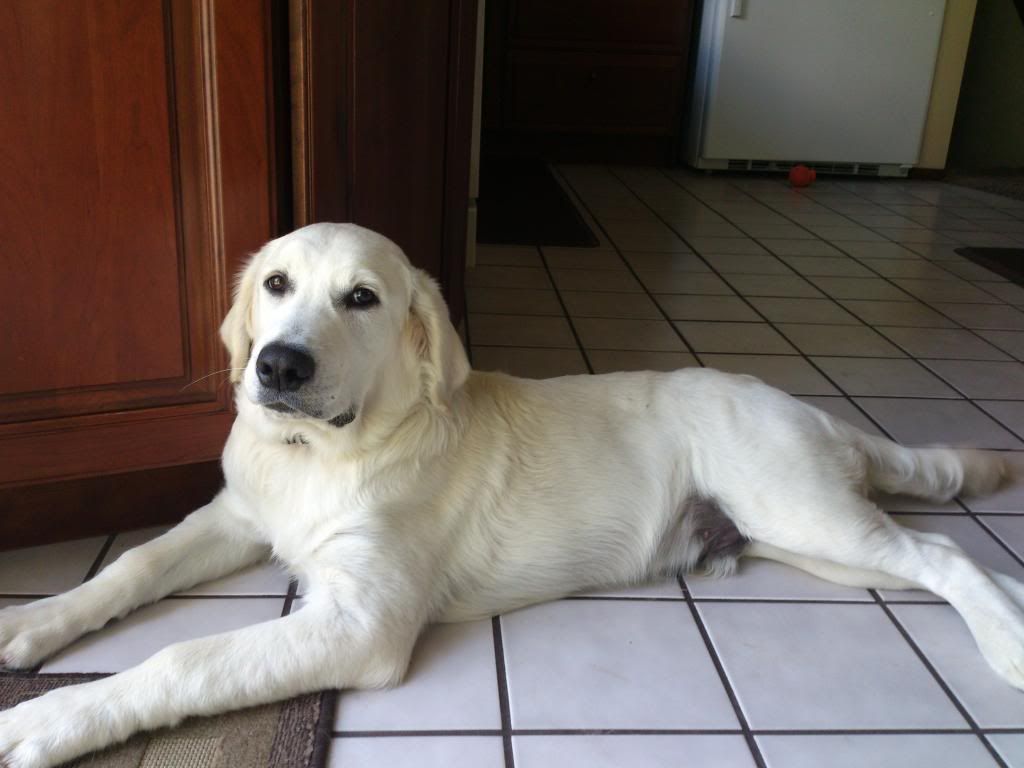 Hi Brittney. Hope all is well with you. I thought I'd send a new picture of Winston since he's almost 6 months old. He's a great dog and is definitely a Mama's boy. He loves playing ball and the water. He has his own pool. I'll keep you posted periodically with his continued growing and his accomplishments. He's very smart and easy to train.
April 2013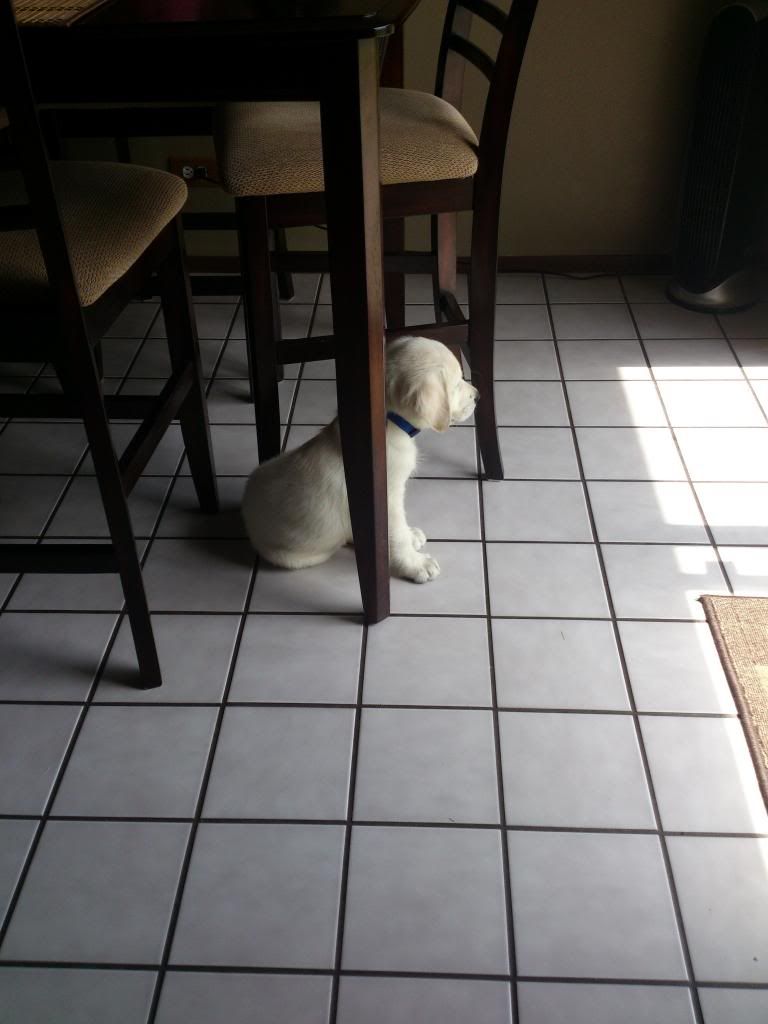 Just thought I'd show off Winston. It's been just over 2 weeks and he's settling in perfectly. We have a Koi fish pond in our livingroom. The picture with him on his hind legs is him discovering the fish for the first time. He's quite the character and we love him a lot.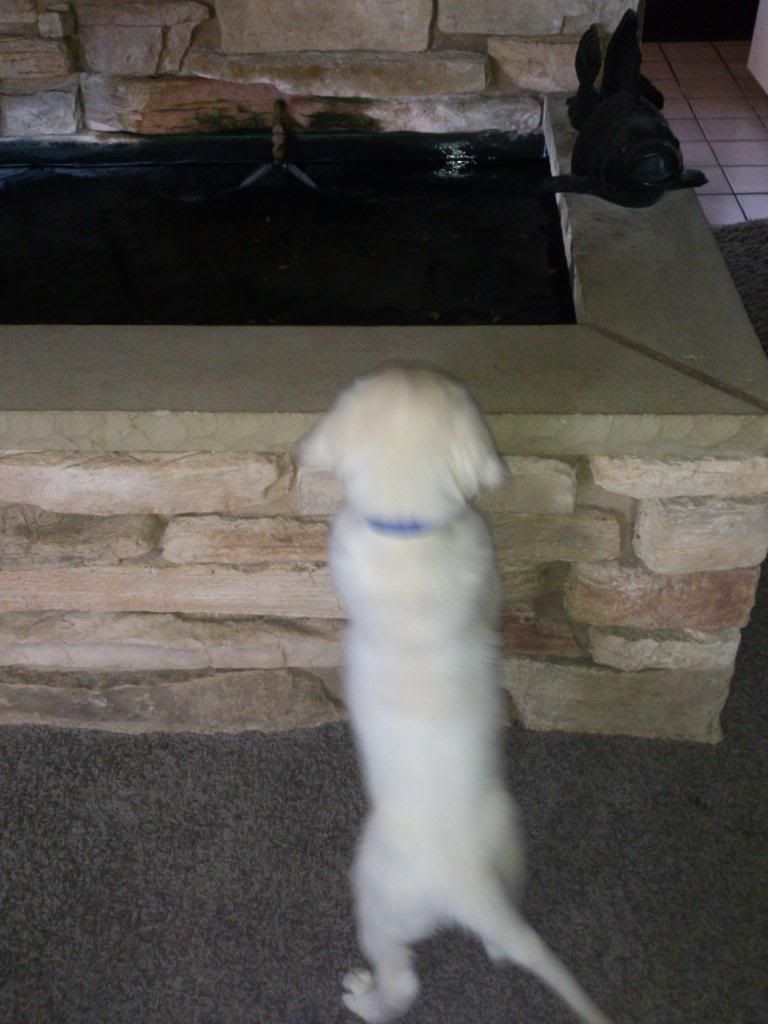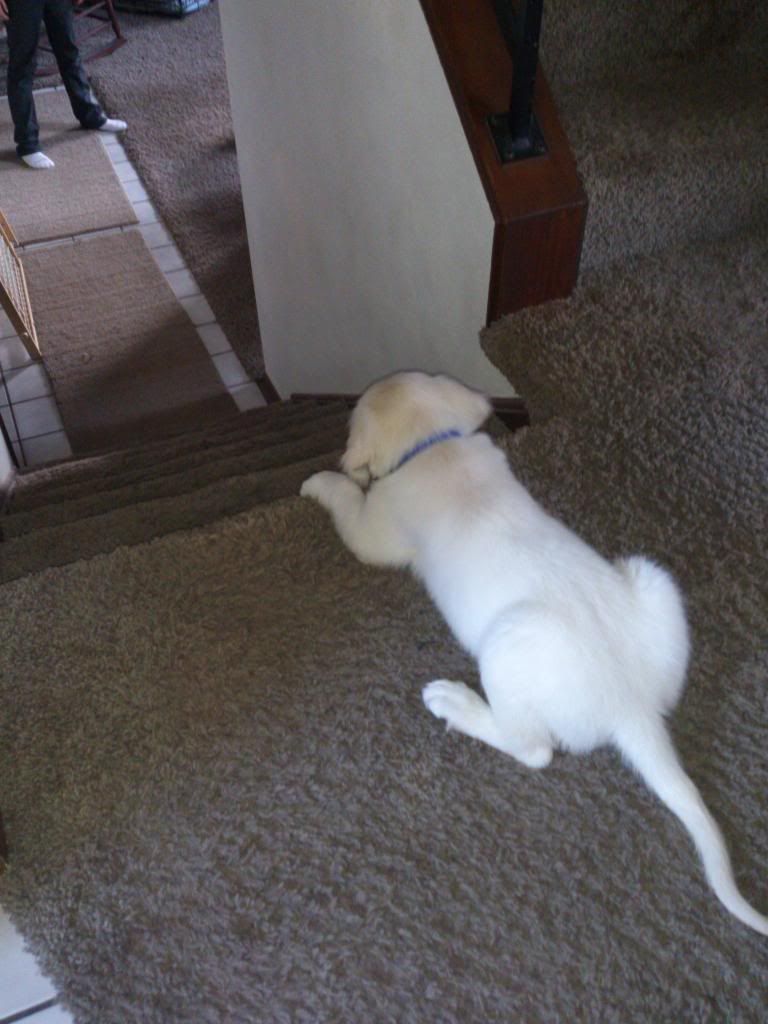 Louis
(Roxy and Atom February 2013 litter)
April 2013 
The potty training is going well. At first he didn't know he was supposed to go outside so he would hold it until he got back in. We still need to work on teaching him a signal that he needs to go but it should come quick.  
He slept for 8 hours last night and hasn't been crying when we put him in his crate and leave. I thought separation anxiety might be more of a challenge for him because he is a little unsure of himself still.  We have been working on his confidence by introducing him to the neighbors including kids and dogs and showing him scary things as much as possible.  The bad weather is actually probably a blessing because he is getting introduced to thunder.  When there is a big crack he looks at us to see if he should be worried or not.  The next big deal is going to be taking a bath (there is a lot of mud!). When you gave him a bath was it in a sink, washtub, or bathtub?
Here are a few pictures: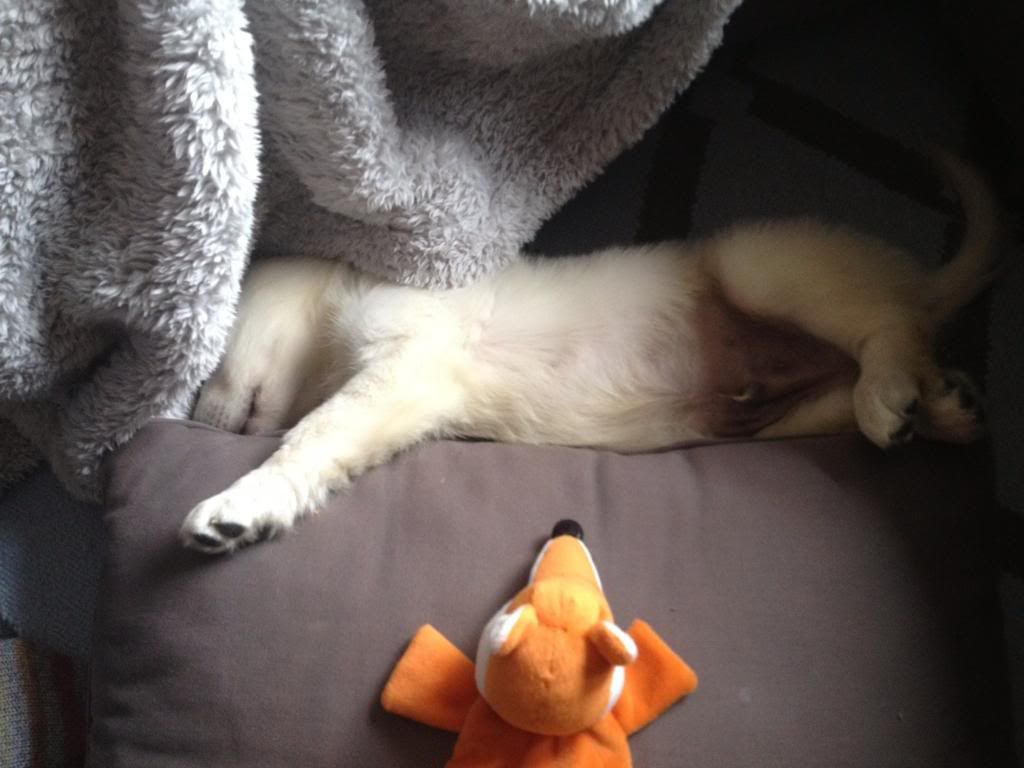 Louis is doing great! He threw up a little on the way home but that didn't stop him from being cheerful and playful and he gobbled up his dinner. He is a good eater and has had no trouble with diarrhea. He slept in his crate for 6-7 hours with no crying the last two nights. Today we put him in his crate and left for about an hour to get him used to being alone and he did great.  We also went to the vet today. we couldn't believe he is 10.9 pounds already. He got a thorough checkup and all is well. Everyone there loved him, including the 125lb St. Bernard.  He loves his toys and he definitely has the instinct to retrieve!  Since our yard is so muddy he has already learned the command 'wipe your paws' when we come in.
Thanks for checking on us!
 B&Z
Gibson
(Roxy and Atom February 2013 litter)
April 2013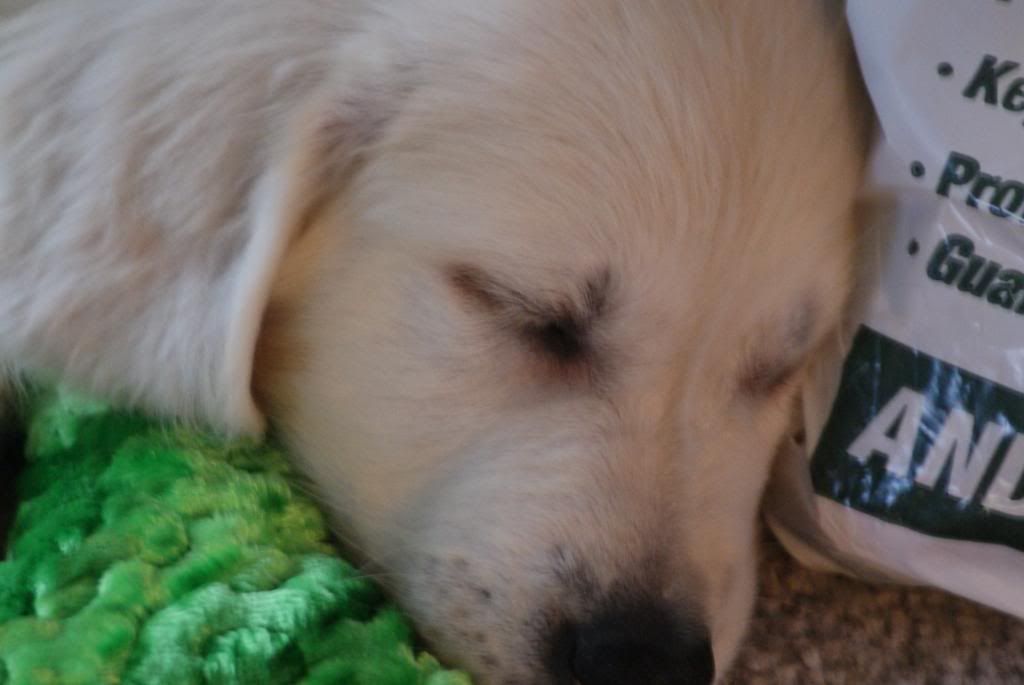 The pup was a wonderful gift from wonderful people and we are enjoying the him so much.  He has had no trouble with loose stools or diarrhea and is eating and drinking fine.  The first night he got up at 5:30 went out and then back to bed till 7:00 and much the same last night.  Very little whining or yelping.   He went to the vet this afternoon and everything is good, will get his other shots at the end of next week. I will drop the vet visit papers in the mail tomorrow.
We had guldens in the past but the dog we lost after eleven years was a lab.  We miss him too.
Gibson is a sweetheart for sure and we just love him.
Judy S.
Zoe
(Roxy and Atom February 2013 litter)
April 2013
She is doing amazing...stool is firm...she is eating and drinking...getting along with my other 2 dogs...she went to the vet yesterday...and everything looks perfect with her...no question or concerns with her...we named her Zoe...and we just love her...thank you so much for such a wonderful puppy...
Here is a pic of Zoe with my one dog Jazmine...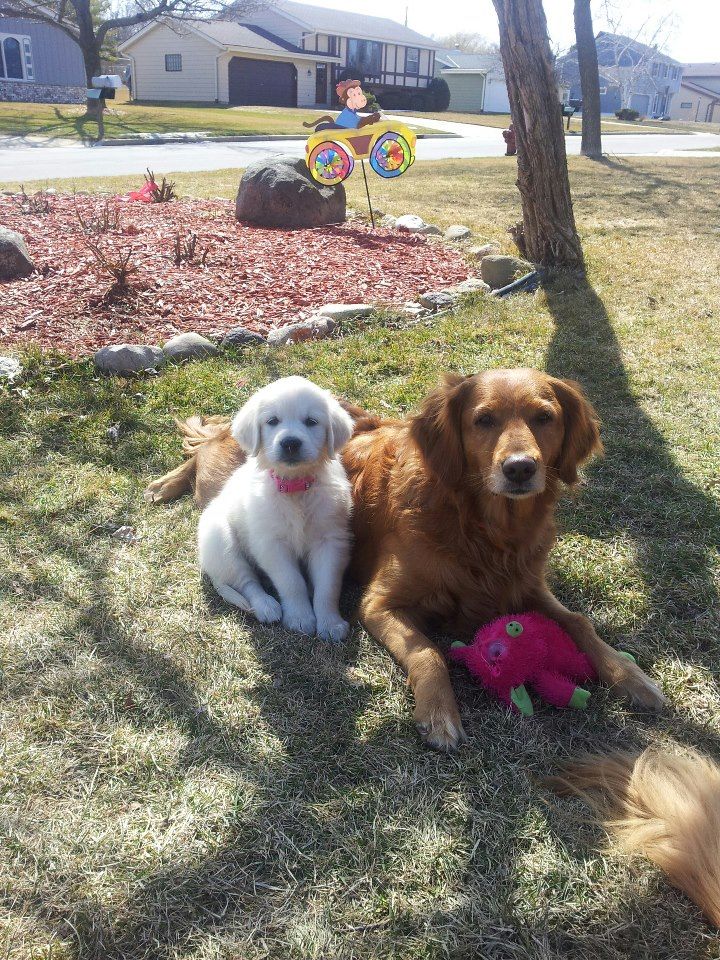 Sugar Magnolia
(Roxy and Atom March 2012 litter)
January 20, 2013
Hi Connie and Brittney,
I just want to thank you for such a sweet, loving and absolutely beautiful dog. Sugar Magnolia, from Roxy and Atom's litter, has turned into a lovely young lady, she and my 3 year old daughter are nearly inseparable. Sugar is such a happy girl and she always has that lovely Golden Retriever smile on her face. She is always happy to go outside and play but also very content to quietly sit at our feet enjoying family time. You would never guess that she is still in her puppyhood, she is the most mellow puppy we have ever owned. You did a wonderful job with her and for that I will always be grateful. It is always my delight to recommend Lil Bit o Goldens and Glamorous Goldens every time we get stopped on walks with people instantly falling in love with her.
Sugar, who is a very good girl in every other way, still likes to chew as most puppies do. Somehow she got ahold of the folder with all of paperwork and it had one of those vitamins left in it that I had forgotten about so she went to great lengths to get the folder off of the shelf. She shredded everything including the folder and my husband didn't know what it was and tossed the papers. So anyway I no longer have her contract or AKC info. It wasn't until he told me about it that I realized I hadn't registered her yet. Do you have any copies of both that you might be willing to send me?
I am terribly sorry for the hassle.

Most warmly,
Mary
Sugar at 91/2 months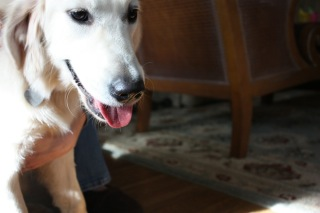 My 3 year old took this one. Look at that lovely smile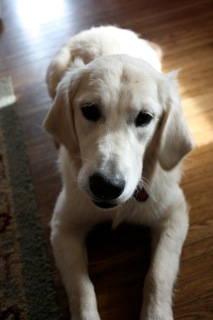 Harley
(Roxy & Atom March 2012 litter)
Happy 1st Birthday Harley!!
October, 2012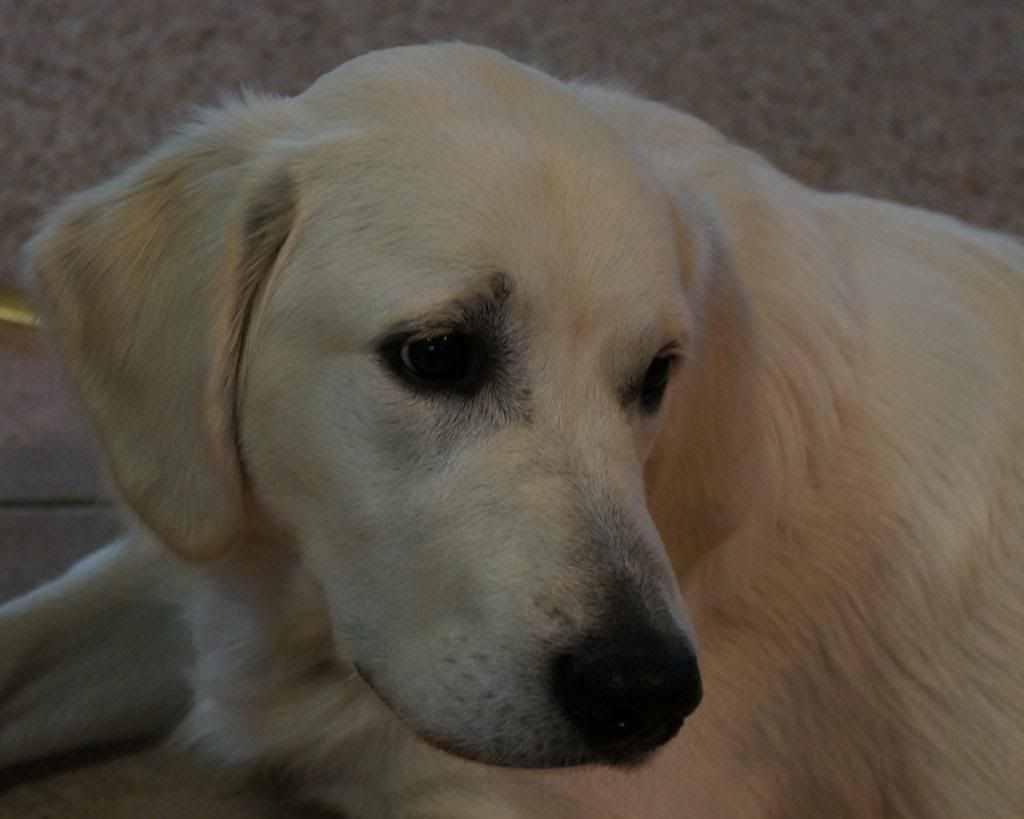 Hi Brittney,
I wanted to write and tell you that we absolutely adore our dog Harley, born March 7. He has the greatest personality and gets along beautifully with our grandkids. He is also a very handsome guy. I am sending two photos taken last weekend.
Donna
Hi Brittney,
Harley did pretty good in his classes. At that time he was still super excitable and we had trouble leash training him. We finally ended up getting an Easy Walk harness and that solved the problem. He is not on a leash very often but we do want him to be leash trained so we can take him to the Farmer's Market, etc. He is a very smart and generally well-behaved dog. He is a "goer" - in other words we take him everywhere we go whenever we can (weather permitting) and he happily lies on his bed in the back of our car waiting for our return. He gets two leash-free walks a day because we live across the road from a prairie with hiking available. As you predicted, he LOVES to swim. He also likes to sleep a lot - thank goodness. I work from home and he sleeps the entire 8 hours I am working but when the 8 hours are up he is ready to go (!!!!) and if I am working beyond 8 hours he lets me know about it. I will send pictures as he gets older.
Donna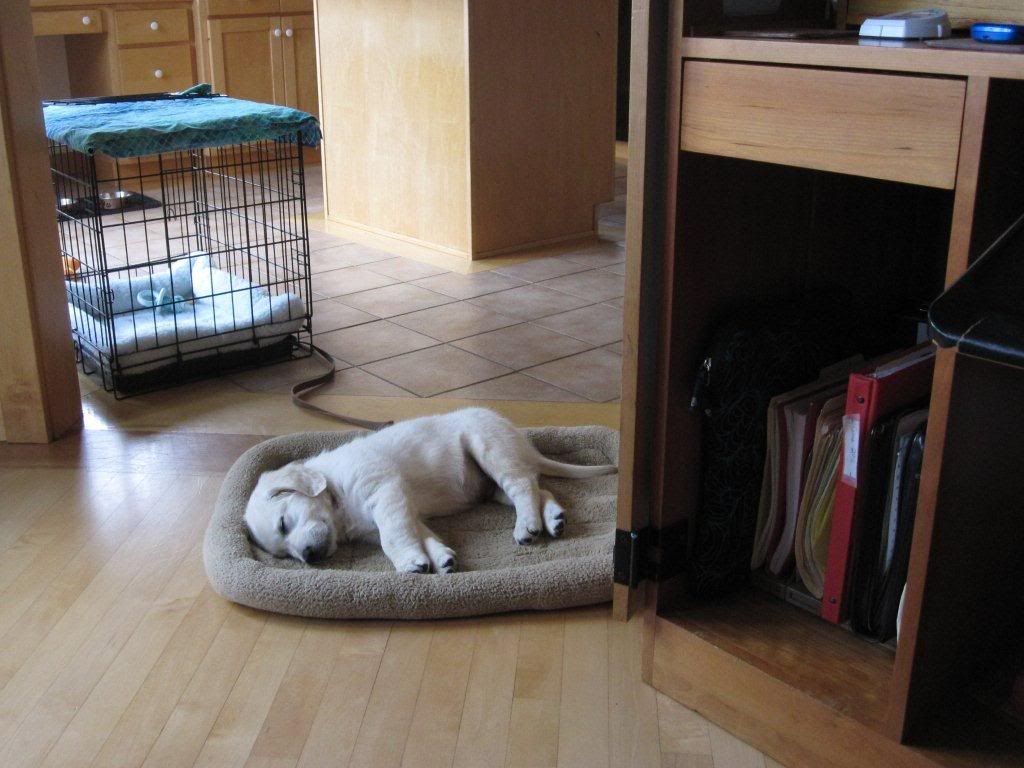 Harley pictured above at his first day of work.  "Hi Brittney, Harley enjoyed his first day at work. In fact, he is the perfect office mate. Donna"
Hi Brittney,
Harley is doing fabulously. We absolutely adore him!! He did great at his well puppy check-up. He is such an even tempered little guy; he is feisty when awake and playing but settles quickly. We are not paper training Harley. He toilets outside every 2.25 hours during the day (at this point) and has had very few accidents (the accidents occurred the first night - our fault, not his). Last night Bruce toileted Harley at 1:00 a.m. and then Harley woke me at 4:30 a.m. - no accidents. We are transitioning him to another food which we had already purchased prior to knowing you were going to send him home with something. The vet said both foods were high quality - Harley likes his new food. He drinks well and has had no diarrhea. As far as we are concerned he is the perfect puppy. I will send photos and keep you posted on his progress. Donna
Hi Brittney,
I just wanted to let you know that Harley is doing great. We have fallen head over heels in love with him. He has a great personality - he loves to play, but settles quickly. He had a second vet appointment this week and gained 6 pounds in 3.5 weeks. The vet says he is not too heavy - he is simply going to be a BIG dog. I will send you a current photo as soon as I take them off my camera. Donna

Friday
(Charlie & Duke June 2012 litter)
 October, 2012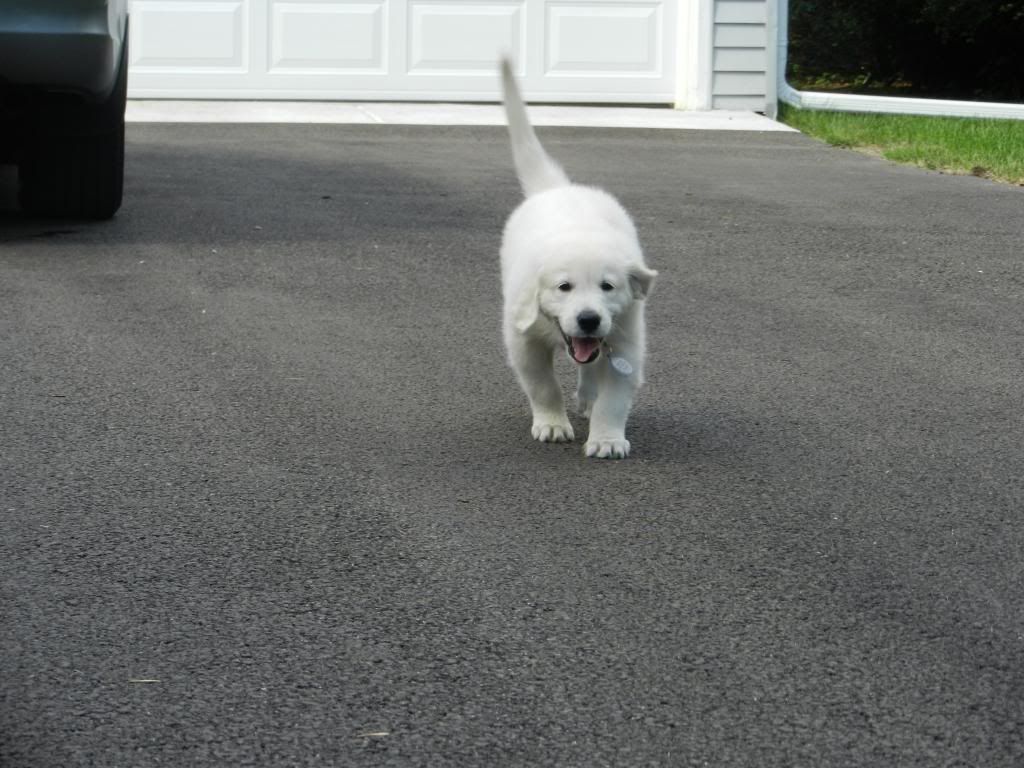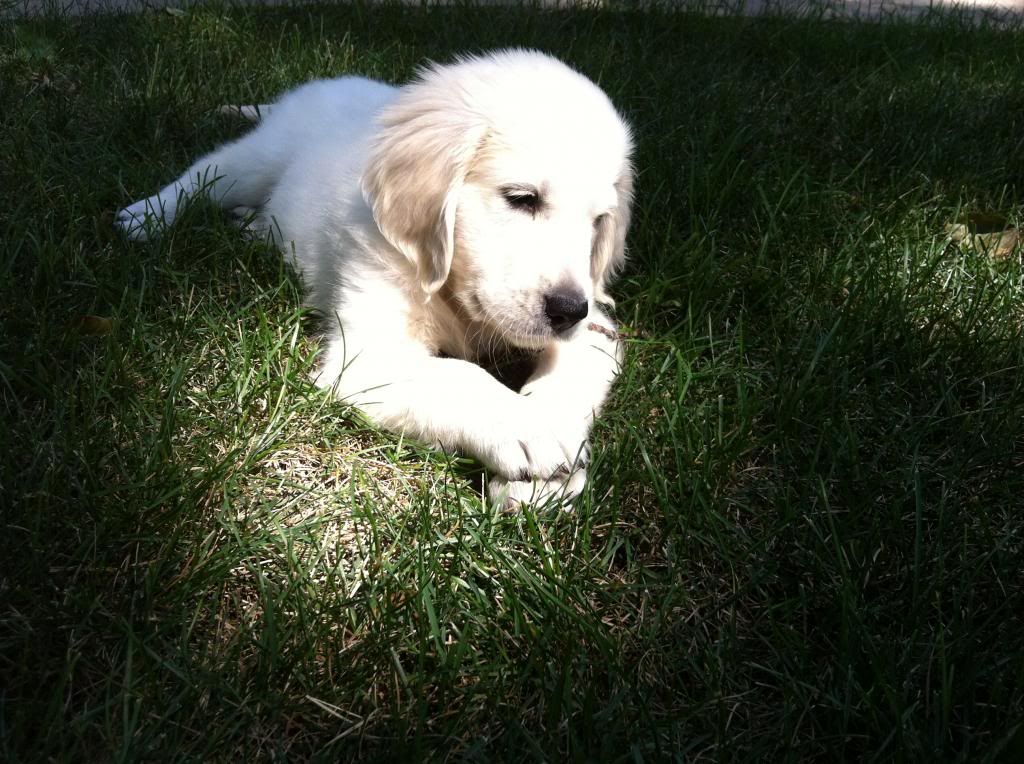 Hi Brittney,
Just wanted to let you know how wonderful Friday is doing! He is THE sweetest dog! So loving and great with the kids-he's a real cuddler :) He's also very playful--he loves chasing the soccer ball with the kids. I've attached a few pictures.
We're so happy with him and wanted to let you know that he's doing great!
Thanks!
Ellen 
Hi Brittney!
The puppy is doing GREAT! He's been eating and drinking wonderfully, and his stool has been totally normal. Our
vet appointment
is actually now on Wednesday. He is SUCH a sweet little pup, and we're having a blast with him! He seems really confident and of course very curious. We are absolutely in love with him!!
I'll keep you posted on the vet appointment.
Thanks for checking in!
Ellen
Hi Brittney!
Puppy had a great vet's appointment--everything's super!
He's totally fun and such a part of our family already :)
Hope all is well with you!
Ellen
Lexie 
(Roxy & Atom March 2012 litter)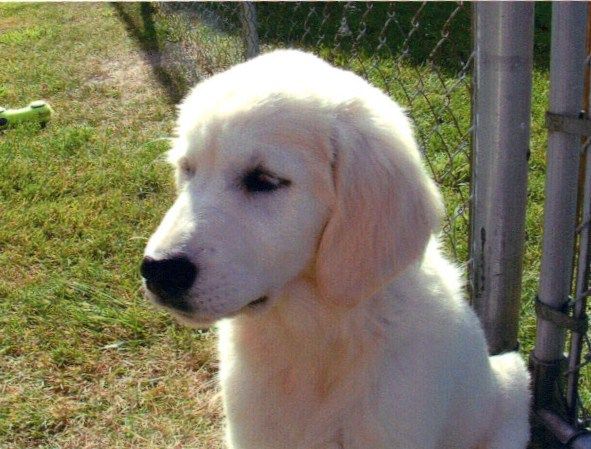 Lexie @ 3.5 months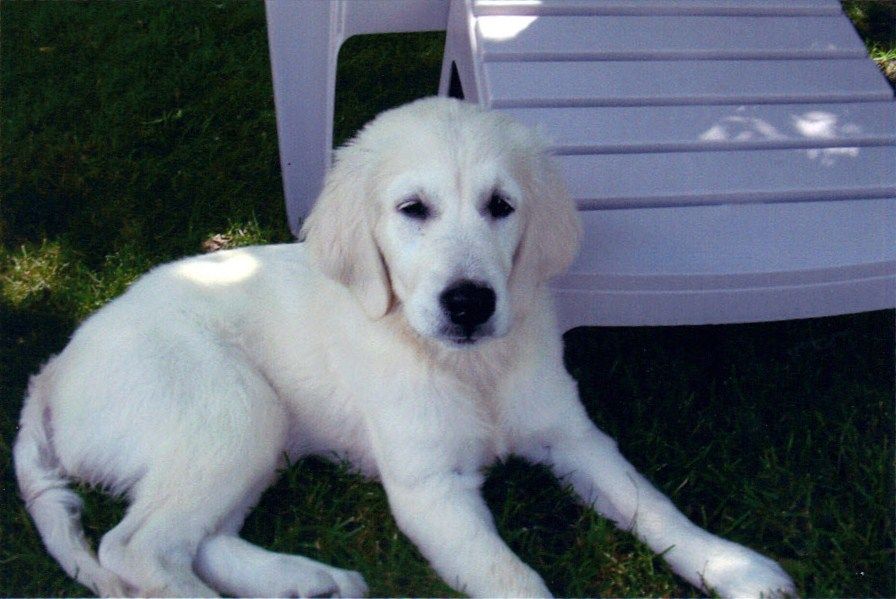 Lexie @ 4 months
Lexie @ 4.5 months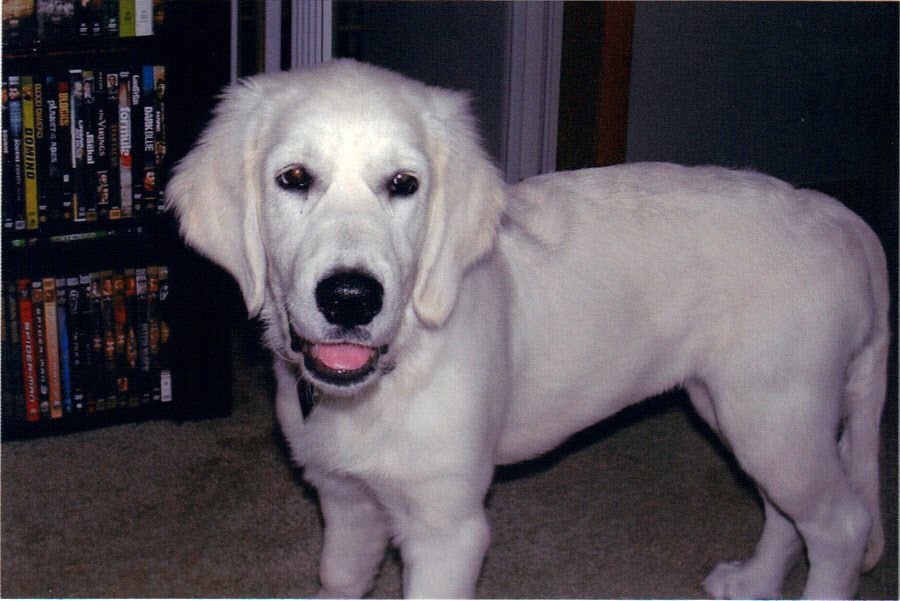 Lexie @ 4.5 months
Hello Brittney,
Just a little note to let you know how our puppy is doing. We named her "Lexie" and were able to find her food at Petco (the Royal Canin med Puppy Food). We also ordered her vitamins, a years supply. She is 32.6 lbs. She walks so well on her leash. We go for walks every morning, sometimes in the evening as well. She loves her swimming pool and helps me water the flowers everday. Although it takes me twice as long with her helping! She's pretty well potty trained; Jim usually puts her out once during the nite and we begin our day around 5:30 or 6. Lexie sleeps in the frontroom or bedroom with us. Her bed is in the kitchen, but she loves being with us, and of course we're constantly loving her up! She's the best puppy, loveable, and laid back and we love her so much. She's perfect!! (even the cats think so). She likes to play ball and tug of war & Yes, she always wins!! - And beautiful... she is so gorgeous. I'm enclosing several pictures so you can see for yourself. She has a pink "Harley Davidon" collar and a heart name tag. She knows how to sit and lay down and also "Lexie Come." We're working on shake paw. She loves putting her paws in her outside water bowl. The rash she had is gone now. - We had to give her several medicated baths. (Jim got in the bath tub with her so she wouldn't be afraid). He loves Lexie so much. He is always taking pictures, playing ball, and going for walks with her. As you can see from the pictures, she has a long nose and beautiful egg head. So much for his short, stocky, block head field golden! Just wanted to let you know how gld we are to have found Lexie. She's a great puppy. Take Care, Jim & Jill
Lacey
(Charlie & Duke June 2012 litter)
December 2012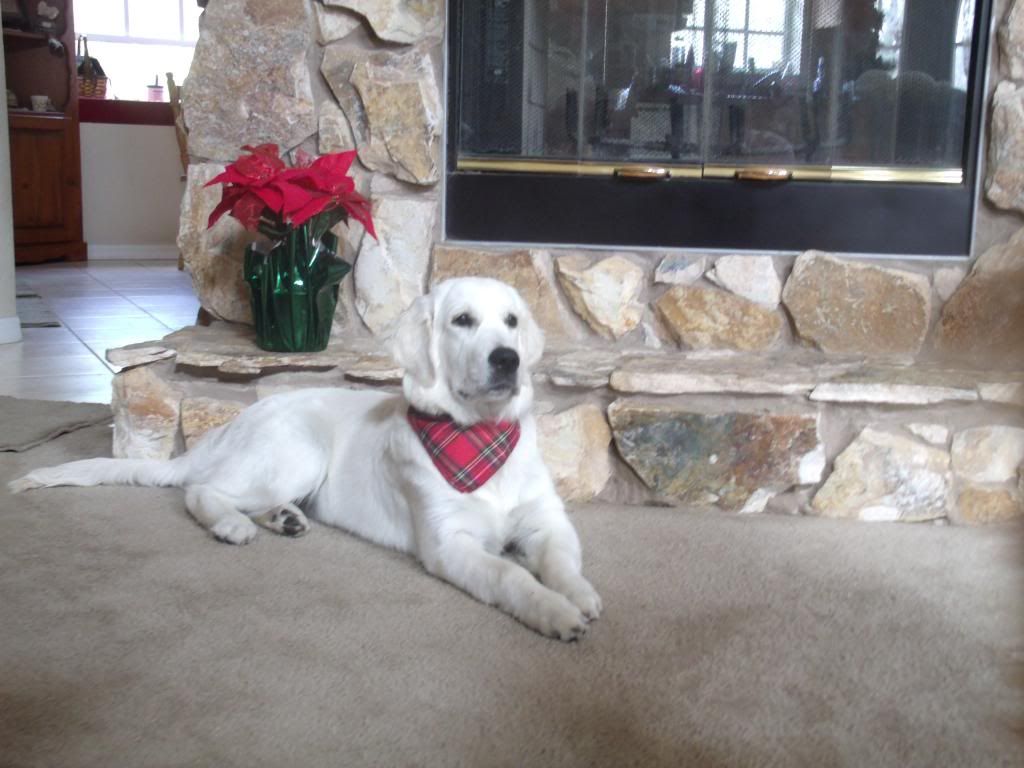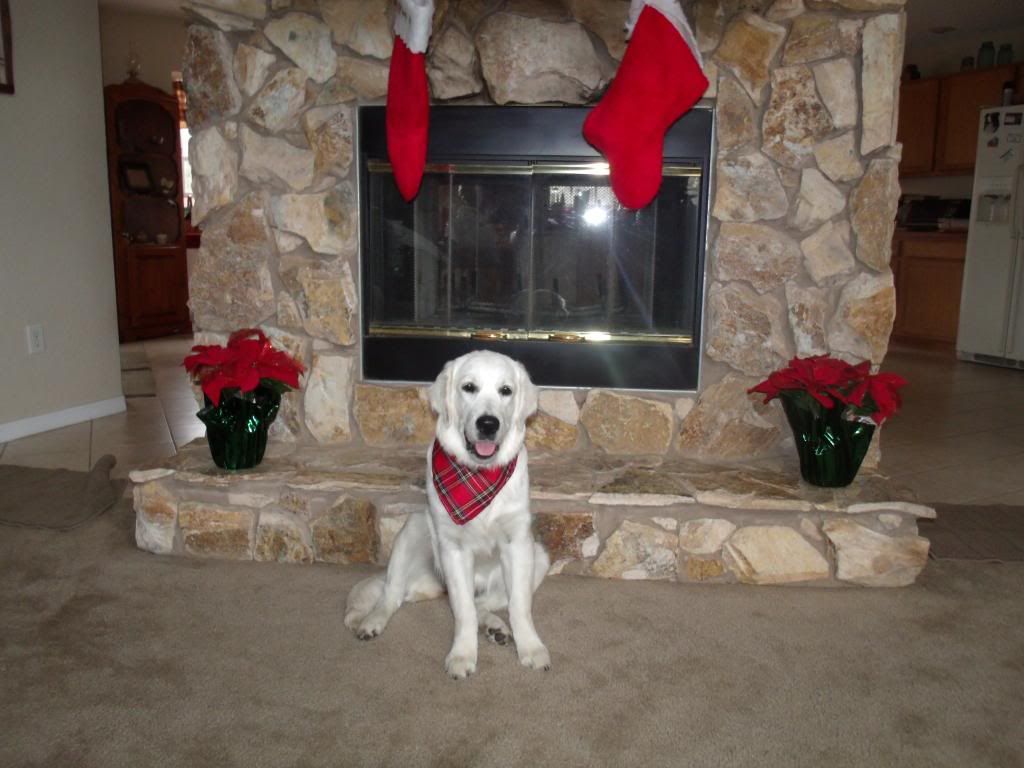 Dear Brittney;

As the holidays approach and I am sending out messages to family and friends, I
thought I would send you an update on Lacey, as she is now six months old.  Hard
to believe already.
Lacey is such a little princess.  She is so full of attitude!  She loves socks,
and always seems to find one somewhere?  And when she does, she brings it to you
with a grawl, and makes a litte prancing movement with her front feet. It is too
adorable!  Lacey has been such a wonderful blessing to our family, and for that
we thank you! I pray you and your family have a Blessed Christmas and a Happy
New Year!

The Hall family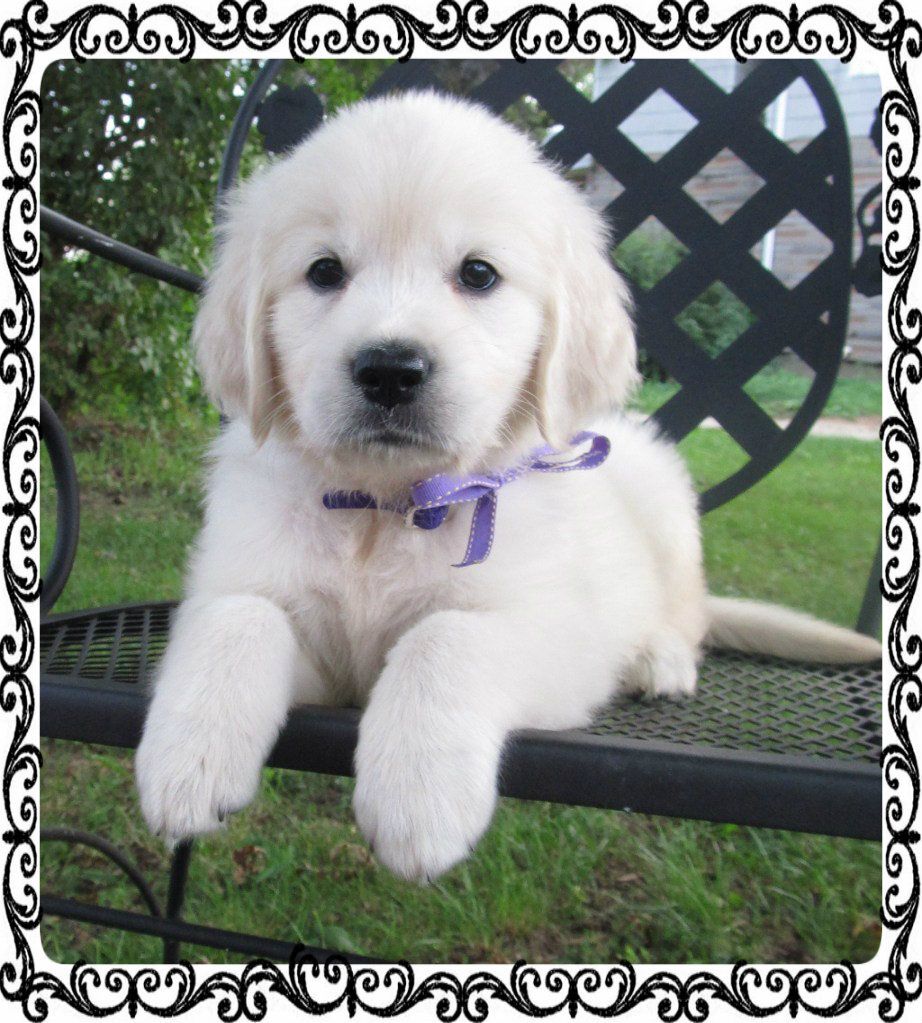 Hello Brittney,
Just wanted to let you know that the puppy is doing fine. She is definately
full of attitude. We decided to name her Lacey. Forgive me, but I am new to
this whole dog shipping thing. I am assuming that her papers are coming in the
mail?? Just making sure!
Dawn
Casper
(Roxy & Atom March 2012 litter)
Here's our vet report on "Casper".  Things are going well.  He is a smart puppy.  House-training going better than expected!  Vet was very impressed with him.  Thanks, Linda H.
Isabella 
(Charlie & Duke June 2012 litter)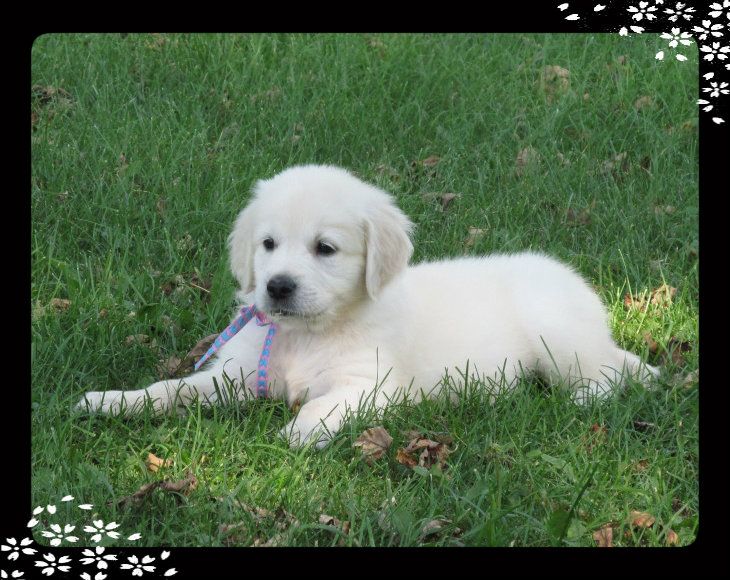 Brittney,
She is doing great. She still stays under foot most of the time. She really just loves being by your side. She was the most wonderful traveler. She never got upset or scared when we took potty breaks. Her vet visit will be on Wed. That is when I could get her in. Thanks for her. She really is a sweet heart.
Rhonda
Jack
(Charlie & Duke June 2012 litter)
Hi Brittney, just wanted to let you know that Jack is doing great! Potty training has been a breeze and we're working on basic commands with him now (sit, stay, come) that he's picking up on very quickly. He's such a smart puppy. The kids just love him and he loves them as well.. he follows them everywhere! We are beyond pleased & couldn't have asked for a better puppy. Thank you for everything!
Laura & Family
Ali 
(Charlie & Duke June 2012 litter)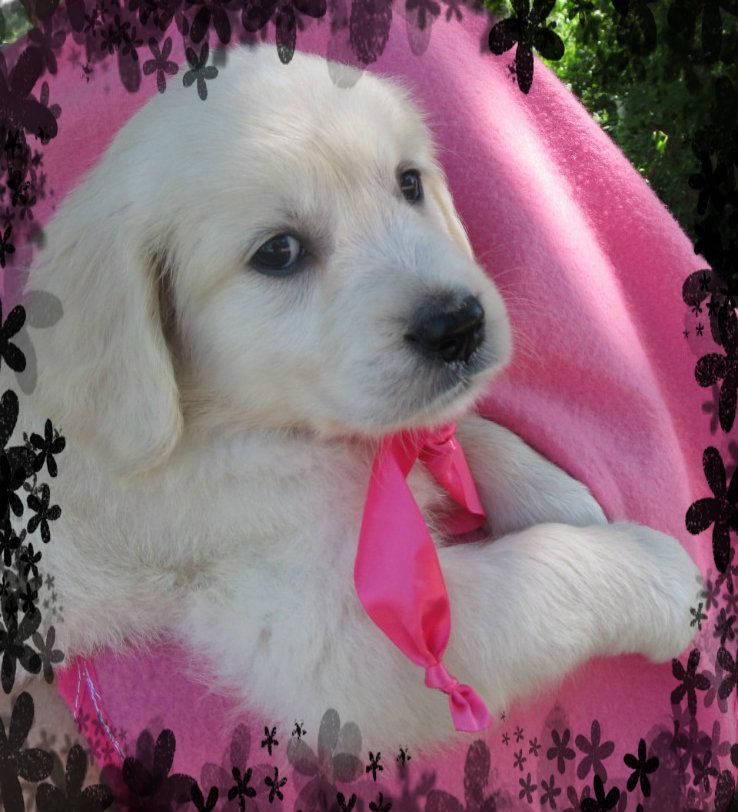 Hi Brittney:
Ali is doing fine. Right now she is laying at my feet as I am working from home. She is taking two walks a day with us and walks the whole distance, she did from the start (at eight weeks). She is walking a pretty straight line following our other dog.
The transition to our house has gone perfectly. Ali became an immediate member of the family.
Ali has made many friend, both human and other dogs and cat. We could not have found a better friend, she is healthy, happy and adds allot of joy to our lives.
My wife will follow up with pictures, she has only shot hundreds of them.
Thank you for checking on her.
Dale